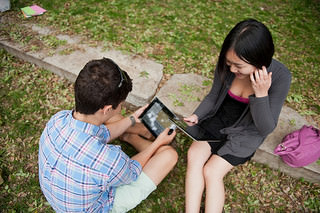 In the early days of the commercialized Web, the idea that you could purchase goods and services from providers anywhere in the world using your personal computer was exciting and irresistible. But as the Internet has evolved and the search experience has advanced, consumers have become increasingly focused on their local world when looking online for products and services.
From desktop to smartphone to tablet, local search intent is strong, with one in three searches having local intent, according to Google.
For businesses with multiple locations—whether national brands, regional chains or small businesses with more than one location—finding a way to capitalize on local search intent is critical. Research shows that 49% of local searches are conducted without a specific brand in mind, and 61% of searchers consider local results to be more relevant than standard search results.* Even if you are successful in appearing in local searches, if you don't point consumers to a landing page with relevant local content, you will lose them along the path to purchase.
Separate landing pages, rich with relevant content and keywords, will help you engage local consumers. These landing pages will not only help local consumers find you more easily, they will increase the chances consumers will conclude their purchase journey with you.
Here are just a few reasons why deploying individual local landing pages is a smart move for your multiple location business:
1. Hyperlocal presence – be seen where your consumers are searching. With separate landing pages containing location-specific content and keywords, you can dominate hyperlocal searches in more than one city, town or neighborhood.
2. Increased brand awareness through visibility across multiple markets. Make full use of online and mobile search portals, directories, aggregators and review sites. Your business will stay in front of the consumer, creating constant visibility and market saturation.
3. Enhanced, relevant content draws local consumer attention. Increase your findability in local searches by ensuring the consistency of your information and the inclusion of enhanced content like location-specific website links, hours of operation, logos and other images. Consumers are more likely to click on a local search result for your business that includes an image. What's more, your business will show up in image searches, increasing your overall search visibility.
4. Express your local personality. More than one-third of smartphone users are looking specifically for retailer contact details such as phone number, address and directions (source: The Mobile Path to Purchase). Separate landing pages enable you to add specific information about each business location (e.g., local phone number, local address, cross streets and directions, special products and services offered by the location, other details specific to the location), helping a consumer see you as a truly local business.
Ultimately, if your business—whether a national brand or SMB—has multiple locations, you are a local business. You need to focus on the needs of your local consumers across the cities, towns and neighborhoods you serve. And that begins with helping your customers find you and quickly identify you as a local business that can fulfill their needs. Separate landing pages for each of your locations will help you establish your local presence in the minds of local customers. From there, it's up to you to win their hearts and their business.
* Resource.com