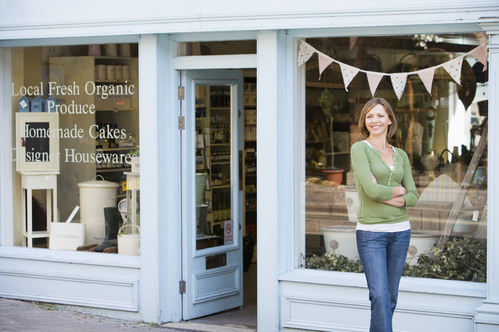 Everyone has their own opinion of the "franchise" concept in America. Some argue that franchises are leading to the extinction of mom and pop shops, dissolving the local micro-cultures and communities that make our towns and cities unique. While this idea may have validity, I believe that franchises are the new mom and pop shop. Here are seven reasons why Mom and Pop are increasingly interested in the franchise option:
1) Buy with bargaining power
Independent operators have limited buying power. With an unknown brand and the buying power of one, it is a challenge to negotiate rates for purchasing inventory, supplies, and anything else needed to run the business. Franchisors, who have a well-established brand and tens to thousands of locations, have the ability to negotiate bulk prices and share these reduced rates with franchisees. Moreover, vendors often view franchise customers as dependable long-term clients, making them more inclined to cut deals and extend credit to franchisees.
2) Ease of navigating government regulations
Understanding the laws and regulations that come along with opening a new business can be a tedious process. Depending on your city and state, you are likely required to adhere to different building codes, marketing laws, employment laws, workplace safety laws, environmental regulations, and more. (Some of these can be found on the SBA website.) Acquiring the necessary legal consultation and learning to structure your business to comply with these regulations will eat up time and resources, franchises already offer functional business models, making it faster and easier to open up your doors.
3) Accessibility of peer support
A successful entrepreneur has a strong support system of mentors, consultants, and helpful peers. Independent owners may gain this through friends or membership in the chamber of commerce and other business organizations. But, franchisees inherently amass a huge network of supporters through the franchise system. Whether it be through fellow franchisees, company conventions, or online support groups, the franchise owner has many forums to direct questions toward from people who have likely experienced similar issues and problems.
4) Availability of capital
Knowing that insufficient capital is a recurring reason why small businesses fail, finding adequate financing to build and operate a business is instrumental in the startup process. Entrepreneurs with little experience frequently learn that securing a sizable loan can be difficult without a financial history to ensure profitability. Franchisors, on the other hand, oftentimes have relationships with lenders who perceive a diminished risk of lending to franchisees because of the brand recognition, documented financial history, and proven business model provided to them. Another accelerator in the franchise loaning process, the Franchise Registry was developed in 2012 by the IFA and Consumer's Bank Association to give loan officers access to detailed financial information, allowing them to make faster, more informed decisions on lending to franchisees. These resources and relationships make the loaning process much more efficient than it is for sole business owners.
5) Design & Marketing Costs
Branding has become an increasingly expensive task in the digital age for two reasons- for initial brand development and for ongoing marketing expenses. For example, in Santa Barbara, every business must submit their storefront logo design to a sign committee, which determines whether or not it is appropriate for public display and is consistent with the city vision. For this process, business owners must allocate a budget for a graphic designer to assist them with developing proper signage and branding. Additionally, with the onset of the "digital age," business owners aren't able to simply put out a yellow page ad anymore. You must be seen and found on a myriad of different channels. This means strategic advertisements, social media advertising, publishing on local directories, and building and managing business profiles on review sites like Yelp. Whether this entails hiring a social media marketer or paying for services like reputation monitoring and business listings management, a proactive marketing approach can be costly and time-consuming. Franchisees are able to save on these expenses as their brand is already developed and they are usually supported by regional or national multi-million dollar advertising campaigns. As day-to-day marketing strategy is not a constant worry, the franchisee has more time to focus on running an efficient business.
6) Expandability
The franchise model itself is designed to be easily replicable. Mom and Pop shops do not have this luxury, and owners often have a difficult time maintaining consistency and quality when opening up multiple storefronts. If a franchisee wants to expand and open a new location, the process is streamlined so that the equipment, supplies, and inventory needed to do so are either outlined or provided. This scalability is extremely appealing for entrepreneurs who foresee themselves managing multiple businesses.
7) Ability to resell
Generally, there comes a time where an entrepreneur wants to move on to new opportunities or retire and sell the business. If successfully developed over the years, a mom and pop shop can sell and be extremely profitable. However, the overall demand to buy into a franchise is much higher than it is for purchasing an independent business. The power of names like Wendy's or Pizza Hut is a major selling point to potential buyers, who value the customer loyalty and familiarity associated with nationally recognized brands. While it is possible to sell a small business, selling a piece of a franchise will likely result in a much larger pool of interested buyers and a faster sale.
I believe that these are just seven of many reasons why the popularity of the franchise model for small businesses is growing exponentially.  It seems somewhat of an obvious choice for many aspiring entrepreneurs. It's not that the mom and pop business model is dead, its just that these small business owners are now buying into the value of a franchise model and see the benefits of building their own business as part of a larger brand.

What do you think, is a franchise the best choice for those who want to start their own local business?