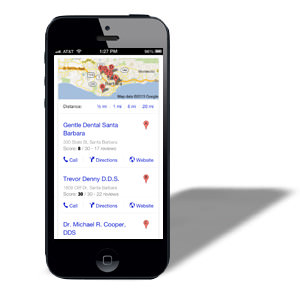 Mobile search has fast become consumers' preferred method when searching for local businesses. In fact, 50% of Google mobile searches are local. The data is clear—mobile search is surging as desktop search continues to decline.
Having a mobile optimized website is now a must for local businesses that want to be found by the millions of local consumers who are routinely conducting mobile local searches from their smartphones and tablets. Mobile optimization—and the related building blocks of local SEO—is nearly as essential for a local business as having a business phone number.
And yet, most small and medium-sized businesses, many of which are local businesses, are not well positioned to be found by mobile searchers. According to data from SMB DigitalScape, 94.5 percent of U.S. SMB websites are not mobile optimized. It's time for local businesses to get serious about mobile, or risk losing ground to mobile-ready competitors.
Is Mobile Really So Important for My Local Business?
Among the advantages of mobile search is that it's newer; therefore mobile search results are a lot less cluttered than desktop search results. This lack of competition in the results gives a local businesses even greater visibility in searches.
If that doesn't offer sufficient motivation to start thinking seriously about mobile, there's a growing mountain of data to support the urgency to get mobile optimized…now.
Consider that:
Mobile searchers convert faster, with 55% responding within one hour of a search. ***

Mobile optimized websites have 11.5 percent higher click-through rates. *

25% of mobile users who search for a local business make an in-store purchase. **

49% of mobile users who search for a local business location search for it on a map. **

One out of three smartphone users search specifically for contact information, such as phone numbers, maps and driving directions. ****
I'm Mobile Optimized, But I'm Still Not Showing Up in Mobile Searches
Optimizing a website for mobile devices is only one piece of a local business' mobile strategy. The smaller screen size means a business has to show up among the top listings for its particular product or service, otherwise the customer will never see the business' listing. Therefore, search engine optimization is a critical component for visibility in mobile searches. Local businesses must ensure they not only claim their online business listings, they must also make sure their basic business information – name, address, phone number – is accurate and consistent, everywhere it appears online.
Where's My Google Map Pin?
Local search is broken on most major directory apps. For example, when performing a local search on Google, your business may not show up – even if you are standing inside your business location.
Once again, to show up on the Google map in a local search, you need to make sure your business listing is claimed, the data is accurate and the location pin is in the correct place.
Just Do It
Smartphones have clearly changed the way we perform everyday tasks. For local businesses, mobile is no longer something to push off until next year. If you want to remain competitive in your local marketplace, your business has to be visible to the growing number of mobile local consumers. Move local SEO and mobile website optimization to the top of your to do list. And just do it.
* Google-Nielsen Study
** Startapp
*** Google Smartphone Study
**** Mobile Path to Purchase Study by Telmetrics and xAd